Description
Vita Green - Vitagreen Menopause 72's



Ingredients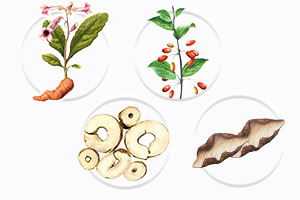 Radix Rehmanniae Preparata, Fructus Corni, Poria, Cortex Moutan, etc
Product Information
"VG Menopause" can effectively relieve menopausal symptoms. The clinical study has shown that its active ingredients can help to relieve transitional discomforts like insomnia, hot flushes, and night sweats. Furthermore, consuming "VG Menopause" regularly can improve skin and hair conditions, enable users to stay energetic and young.
Clinically Proven* - Formula: 90% effective
The clinical study has shown that its ingredients can soothe transitional discomforts. After taking one month's dosage, 90% of users' menopausal symptoms are relieved.
*Data on file
A Natural Alternative to Conventional Dosage
Most women are often prescribed synthetic drug to ease menopausal symptoms. Unfortunately, this may increase the chance of developing serious illness.
VG Menopause, on the other hand, is a safe natural herbal remedy which works by nourishing liver and kidney yin.
Manufactured by GMP Plant in Hong Kong
VG Menopause is manufactured by Vita Green Pharmaceutical (Hong Kong) Limited, a GMP factory certified by the Department of Health in HKSAR. To further ensure its safety and quality, every batch of Vita Green Menopause is tested by independent reputable laboratories. Dosage: Two capsules, twice daily, take orally.
Suitable For
Suitable for all ages
Dosage
Take orally, 2 capsules, twice daily
Customer Reviews
{{'product.product_review.no_review' | translate}}